Underground Access
This applies to Upper Dinas and any other mine or cave within the Craig y Ddinas Mineral Area
DINAS UNDERGROUND IS A HARD HAT AREA
Underground Access
Underground access is only allowed to properly equipped cavers and mine explorers with BCA or similar public liability insurance WHO ARE FULLY AWARE OF THE RISKS INVOLVED AND ARE WILLING TO ACCEPT THEM. Every group shall be led by a competent person who is able to access risk and make appropriate mitigations.
The underground is part of the scheduled ancient monument therefore any digging or other interference with the fabric of the mine is illegal
Although there is a fence to prevent accidental public entry the company does not fit gates therefore there are no keys or combinations to be obtained. If you are a club, please contact us and let us know who you are.
ACCESS IS AT YOUR OWN RISK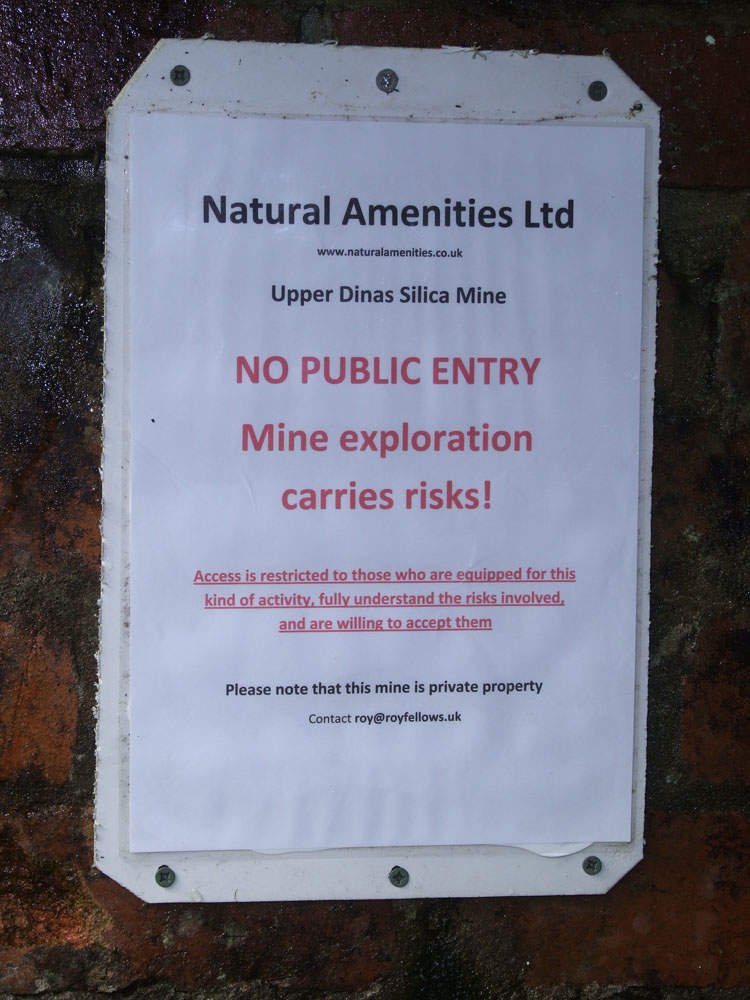 THERE IS NO GENERAL PUBLIC RIGHT OF ACCESS TO THE MINE.
IF YOU ARE NOT EXPERIENCED AND EQUIPPED TO GO UNDERGROUND PLEASE.
READ THE FOLLOWING WHICH IS GENERAL AND NOT APPLICABLE TO ANY ONE PARTICULAR SITE.
#1 NEVER RELY ON ONE SINGLE SOURCE OF LIGHTING, EXPLORING WITH A SINGLE TORCH IS A NO BRAINER.
#2 DOING THIS ON YOUR OWN IS ASKING FOR IT.
#3 LIGHTING FIRES UNDERGROUND CAN BRING THE ROOF DOWN, - ON YOUR HEAD (PEOPLE HAVE BEEN KILLED DOING THIS)
#4 WEAR A HARD HAT, I PROBABLY PLEAD IN VAIN. A QUICK TRIP INTO A SLATE MINE PASSAGE OF 10 METRES BY AN EXPERIENCED PERSON BUT NO HELMET WHO SHOULD HAVE KNOWN BETTER. = 7 STITCHES AND PERMANENT SCAR.
# 5 DON'T WALK AROUND AND LOOK AROUND AT THE SAME TIME.
#6 FINALLY, IF YOU WANT TO GO UNDERGROUND JOIN A CAVING OR MINING CLUB, OR STAY OUT AND KEEP OUT.
Insurance is the responsibility of the group organisers and is beyond our remit.
---