Purchased from Grosvenor Estate over twenty years ago, the Milwr Tunnel is owned by Welsh Water Industrial (WWI). They also own the portal, the pumping station at the portal, Herward Shaft, Caeau Shaft and Olwyn Goch Shaft at Hendre, together with various easements ensuring access to these sites. As the new owners, they inherited the responsibility of maintaining the flow of water at the portal.

Much of the water abstracted goes to industry on Deeside and is therefore carefully monitored (see images below).....
One by one over the last few decades, the various shafts providing ventilation for the tunnel and its workings, became sealed off at the surface. As a result of the loss of natural ventilation, the company had been monitoring the increasing radon levels, hence a set of powerful fans were erected at the portal. These were turned on to clear the build-up of radon prior to any underground work taking place.
Around 2011 a new company was taken on to carry out a series of projects based upon a programme of on-going inspection. Based in Derbyshire the company was originally set up by a small group of mine explorers. A new collapsible headframe was built together with a new winch. Several punts with outboard motors were also obtained to travel along the tunnel. During their work at Herward Shaft a new access drive was created to provide easier access and to minimise disturbance to the householders living within a few metres of the shaft top.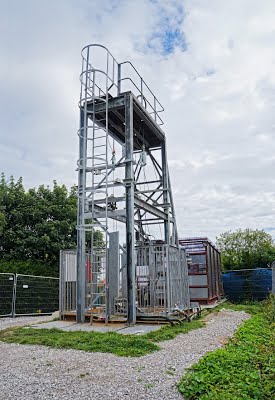 Herward Shafts new 2013 headframe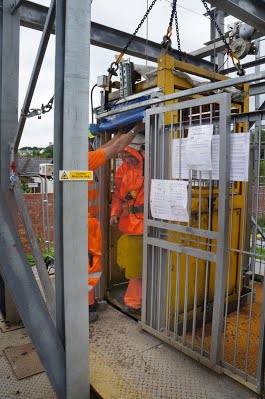 Workmen exit the cage in 2013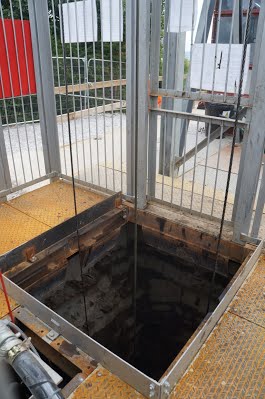 Several seasons work have now been completed and the tunnel has been examined and fitted with a phone line from the portal to a short distance upstream of Caeau Shaft, some 2.5 miles from the portal at Bagillt.
In May 2017 a new access track was created providing vehicular access to Caeau Shaft. This will serve as the new centre of operations for subsequent work upstream between Caeau Shaft and Pen-y-Bryn Shaft on the top of Halkyn Mountain.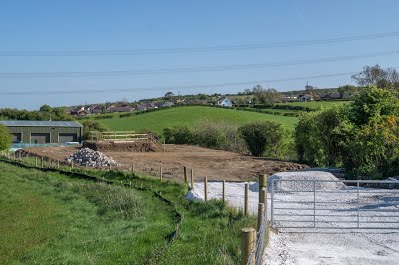 Caeau Shaft May 2017: Preparation work and new access track