Just a few lighting devices (shown below) from the earliest oil lamp to todays electric cap-lamp. Most are unrelated to north Wales, but a nice collection of images nonetheless.
Most of the photos are copied from a set of posters given by Herbert Jagusch who worked in Halkyn Mines after the War. Herbert was was trained as a skipper of German one-man submarines. These were capable of delivering a single torpedo, after which they were incapable of staying below the surface! After the War, Herbert worked as a driller and shot-firer at Halkyn Mines. He lived at Cilcain when he met and married Maude, a woman from Mold. Eventually he and Maude returned to Germany where he worked at Sophia Jacoba colliery, near Aachen. Now in his 80s, he still drives over from Germany twice a year to visit relatives in Mold and often calls in for a chat, particularly about his times in Halkyn Mines. At his home, Herbert has created an impressive display of mining items, some from Halkyn Mines including an Ingersoll Rand 'flying pig' drilling machine.
Herbert also creates detailed carvings from anthracite. In 2006 he presented the piece below to Wrexham Museum to commemorate the Gresford mining disaster of 1934 when 266 men perished. Sadly the museum have chosen to keep the carving in storage hidden from public view. Consequently, in 2008 Herbert presented a similar piece to the Miners Welfare Institute in Llay.
Sincere thanks to Michael Straßburger for providing the details of the following lamps.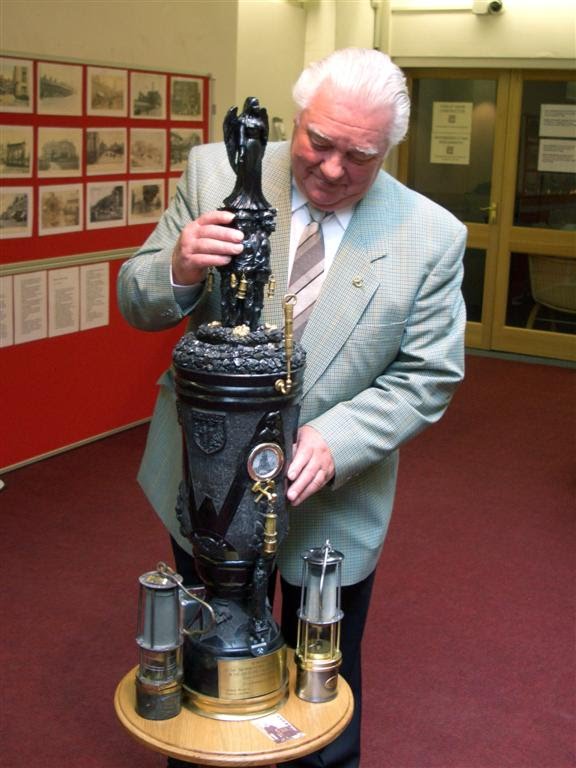 Herbert Jagusch with one of his many superb anthracite carvings.
The lamp on the table to the left is a Polish-made copy of a
Friemann & Wolf Type 400 lamp (1960 – 2000?).
There were several makers of this type of lamp in eastern European countries.
The lamp to the right is by W. Seippel of Bochum (later CEAG Dortmund), type ZL 630 A, 1930, with flint relighter and magnetic lock. Replica.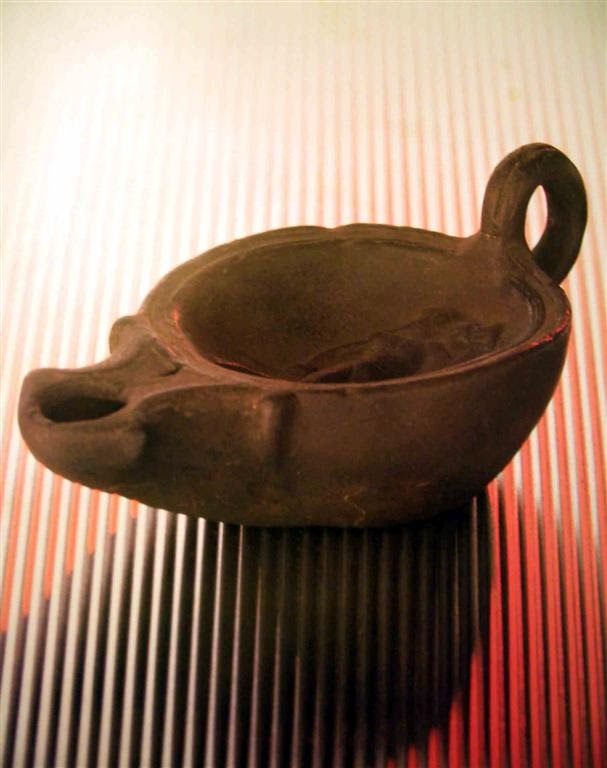 Ancient Roman oil lamp. Made of terracotta, fueled by olive oil. One or several wicks could be fed into the hole at the front. Some were decorated with flowers, gladiators or erotic scenes. They were made in large numbers using moulds and were therefore cheap to produce.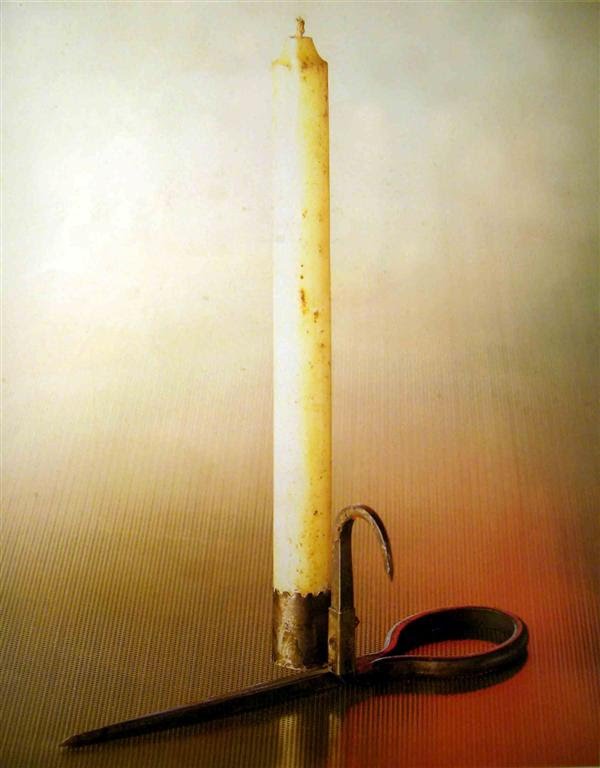 Candle holder as used in many countries, with hook and spike. Made in the USA but maker unknown
Type: candlestick, 1880-1900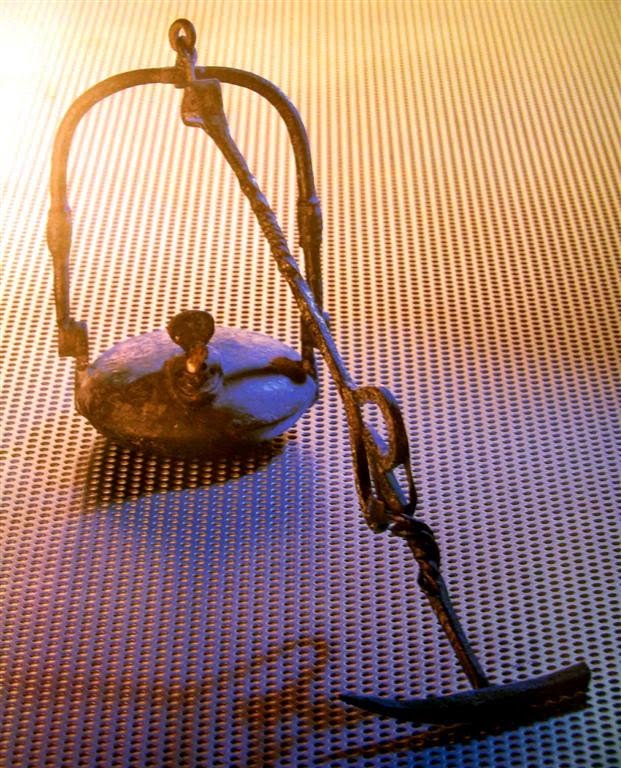 Tunnel-lamp, Lense-type
Possibly by T. Fibenat of St. Etienne, 1885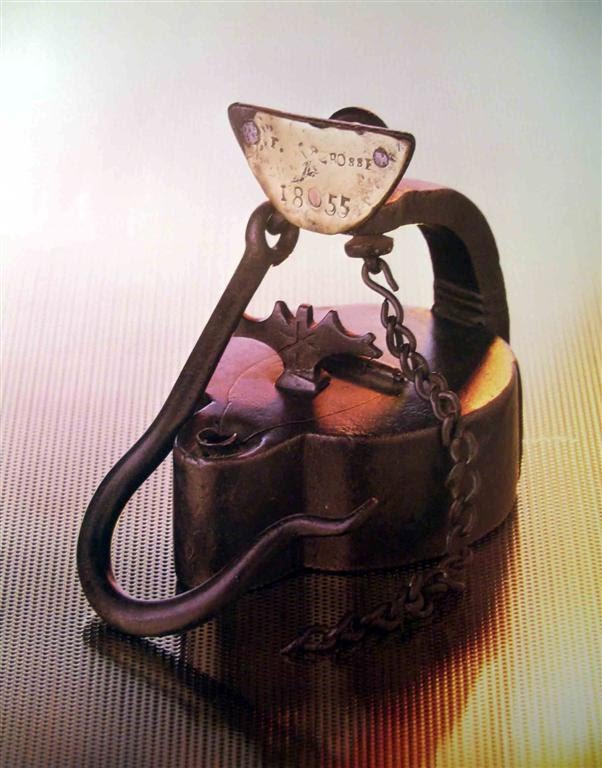 Frog (Frosch) lamp, maker unknown
Either Westfalia or Hesse, 1855
Common lamp in many mining areas in use until 1900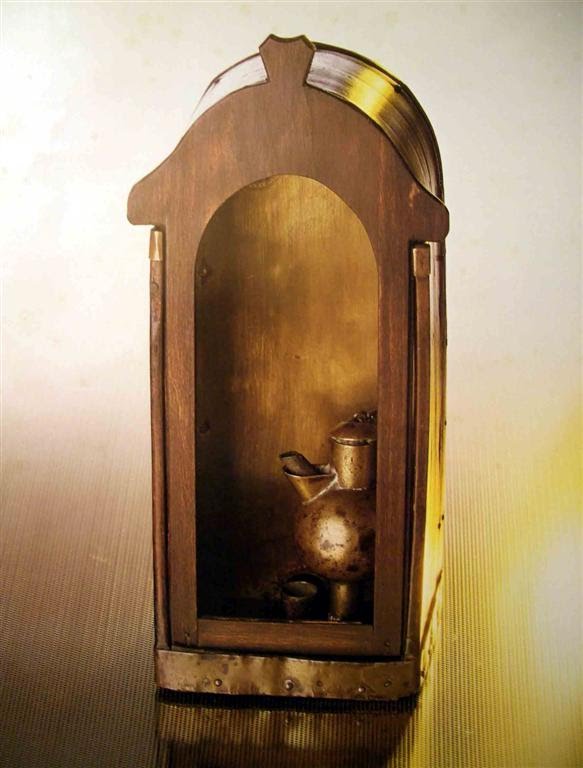 Early oil lamp. Looks rather too flimsy for general use underground
Maker unknown; Saxony
Type: Blende, 1800-1925
This was the standard lamp used in Saxony and usually referred to as a Freiberger Blende.
Freiberg in Saxony is famous for its mines and School of Mines.
The wooden 'box' provided protection for the flame. Parts of the 'box' could be rebuild.
The oil-lamp is known as a cuckoo (Kuckuck).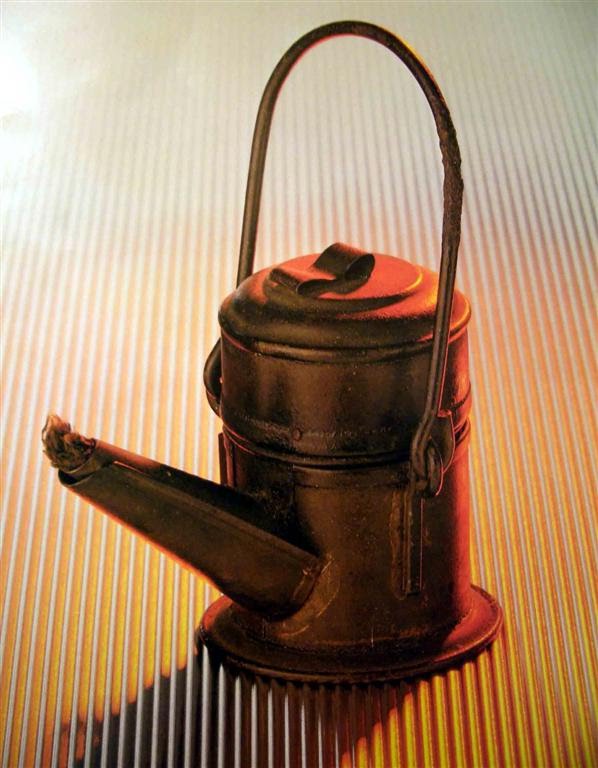 Oilwick tinplate lamp. Maker unknown
Origin probably Harz Mountains. Type: Schelle, 1870 - 1900.
Early miners gas detection oil lamp by Friemann & Wolf of Zwickau, Germany
Type: Pieler, 1885
This looks very much like the remains of a Pieler-type gas-testing lamp minus the hook, parts of the lock and the slotted
scales between the standards for taking firedamp readings.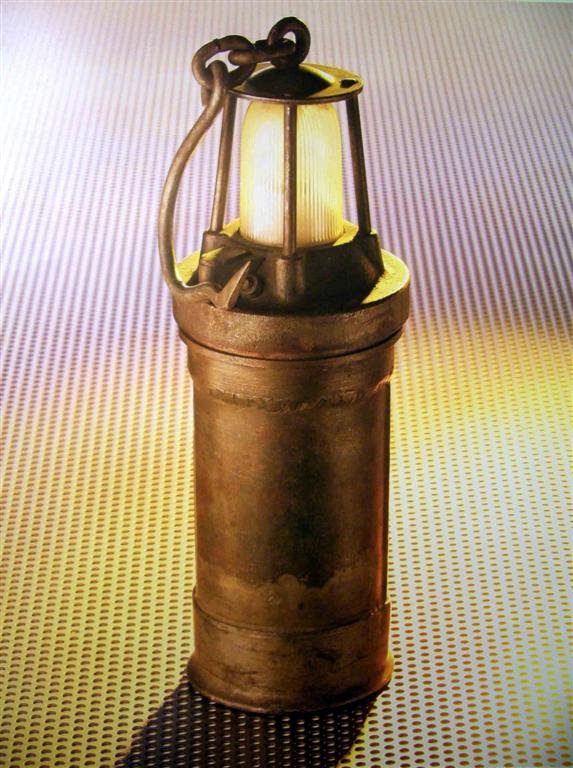 CEAG lamp by Concordia Elektrizitäts AG of Dortmund
Type: KG2, 1955. Powered by a 14 hour NiCad-battery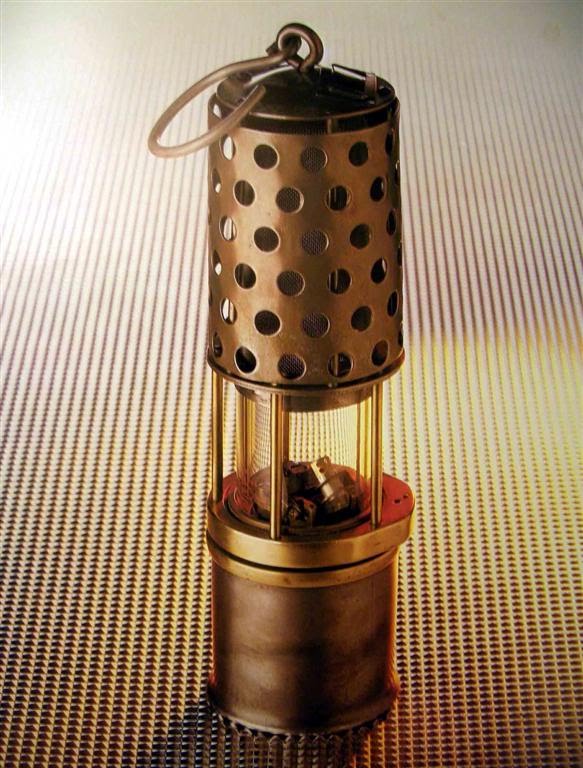 German gas detection lamp by Friemann & Wolf of Duisburg
Type: 20502, 1950 with electric relighter and battery Magnetic lock
The standard lamp used in German collieries until early 1990's (without bonnet).
The type of the bonnet indicates that the lamp was probably used in Dutch mines or the collieries around Aachen.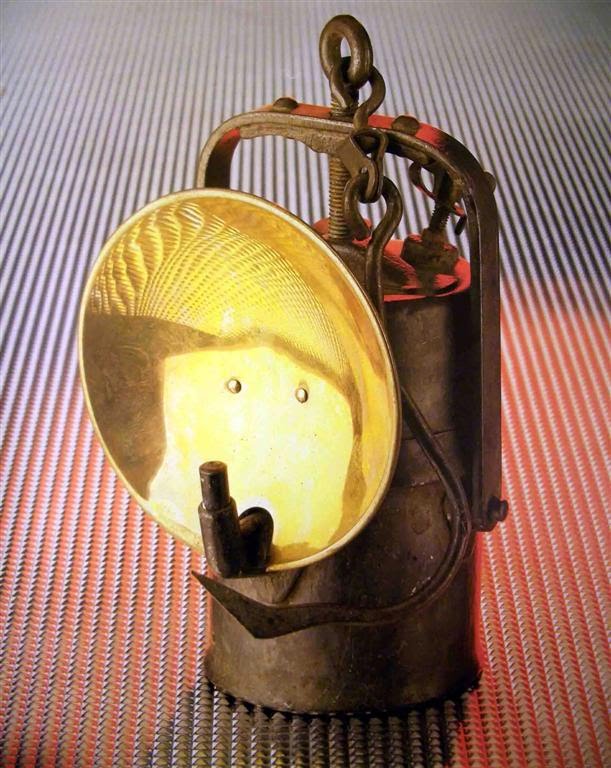 Miners carbide lamp. Used in metalliferous mining after the phasing-out of tallow candle lighting until the introduction of battery cap-lamps (below). With clamping bolt yoke closure. Capable of 9 to 11 hours.
By W. Seippel of Bochum, Germany
Type: 102a, 1910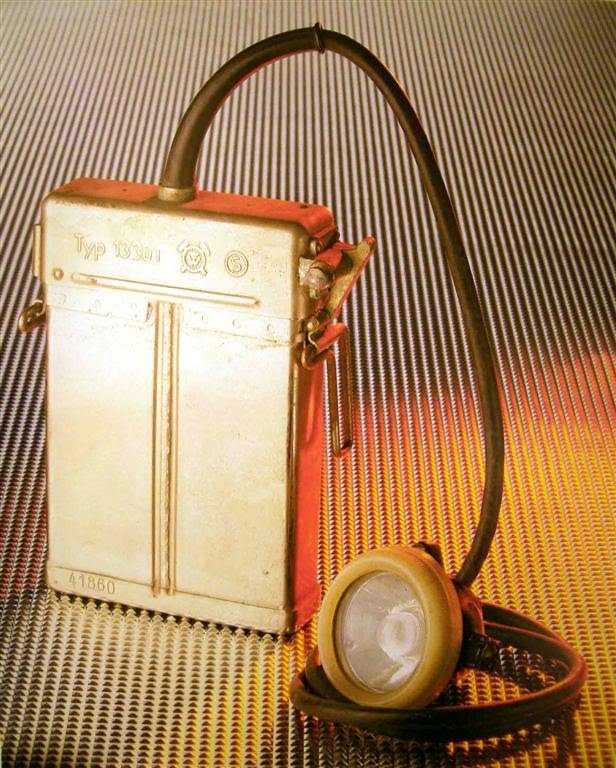 NiCad-battery lamp by Friemann & Wolf of Duisburg, Germany
Type: 13.301, 1950. Running time on a single charge: 13 to 25 hours
NiCad-batteries are standard in Germany.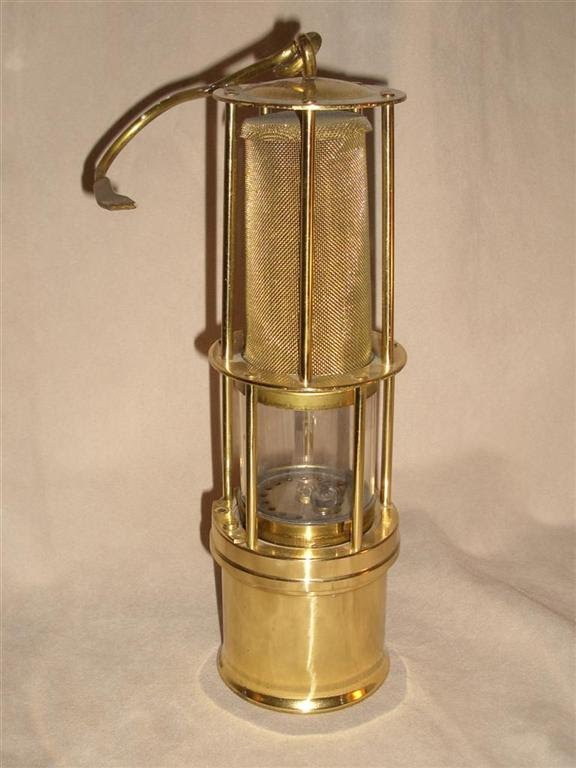 Miners gas detection oil lamp by W. Seippel of Bochum, Germany (later CEAG, Dortmund).
Type: ZL 630 A. 1930? with flint relighter and magnetic lock.
Full brass lamps are often referred to as surveyors' lamps as real surveyors' lamps fetch higher prices, but more often
they're replicas. This lamp could be a recent replica as it has no makers stamp.
They were made by the CEAG company as well as by small engineering companies for commemorative purposes and as
souvenirs until the late 1990's.
Flint relighters have not been used in Germany since the 1950's on safety grounds.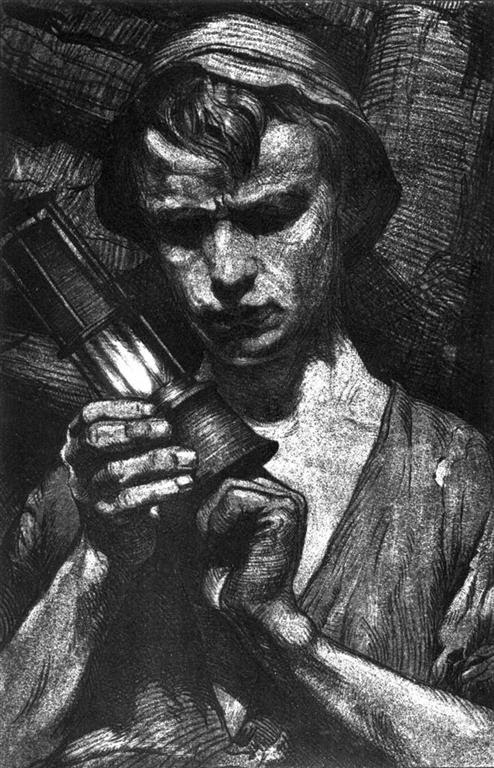 Charcoal drawing by a collier from Sophia Jacoba Colliery



For futher interesting old lamps, check out Marco Keissler's German site:
http://www.miners-lamps.com/indexgb.htm
NB Use Google Translate to decipher the descriptions.

yes...... and even more on this UK Mining Memorabilia website:
http://www.mining-memorabilia.co.uk/FlameSafetyLamps.htm