EVENT OVER. ARCHIVE MATERIAL
---
Thursday early bird specials
There are several trips scheduled for Thursday afternoon for early arrivals, see booking list.
#1 Henfwlch - Leader Roy Fellows. Flexible numbers.
#2 Pantmawr - Leader Ion Lord (He who wrote the book) Limited numbers.
---
General
Our underground program offers a wide selection to cater for a wide range of capabilities ranging from easy walk ins to SRT. Our Health and Safety commitment is such that at no time will any delegate be exposed to unnecessary risk, or expected to do something not described in the trip "TECHNICALITIES".
However, it is necessary for all delegates participating in field trips to be covered by the usual public liability insurance. We will be arranging short membership with a participating organisation for those who do not have such cover.
Delegates booking onto underground trips will be expected to have personal equipment suitable for the type of trip they are booking on. Absolute minimum is a hard hat with chinstrap and attached electric lamp plus sturdy footwear.
Underground, the meet leader is in charge and anyone unsuitably equipped or demonstrating behaviour likely to be prejudicial to the safety of the group will be rejected.
Generally mines in the area are easy to explore and most can be done in waders or oversuit and fleecy, whatever. There are no winch trips, I'm afraid Ceredigion does not hold such niceties, and only 5 trips require SRT, although the upper ladder in Frongoch 18 fathom rise will require a lifeline as its a massive 18 feet, wow.
This is opportunity for the non technical to explore some very interesting mines and being a 5 day event, its well worth travelling a distance.
---
Underground Trips
Frongoch
This is probably the largest single mine in the area and exploration is a longish trip.
Entry from a manhole in the hillside by short easy fixed ladders, no lifeline required, into deep adit and thigh deep water. About 3/4 of a mile of adit to Engine Shaft with pump rods and other bits. 80 foot laddered rise to 18 fathom level .
Engine shaft with pump rods and remains of surface balance bob dragged down when the rods were released. Stope with clog prints, kibble and other stuff.
All day trips due to new additions. Start times will be from 10.30 hrs staggered for each party by about 30 mins.
TECHNICALITIES: Moderate but a longish trip with some stooping. No SRT but belay belt and jammer for lifeline on fixed ladders. Thigh deep water in places. Optional swims, plus a grotty crawl.
Most of the mine can be seen without getting wet.
---
Bwlch Glas Mine.
An interesting SRT trip (advanced) to the deep adit where there is a winze with cages in situ. Also optional very wet trip up deep adit to a winze with a kibble.
SRT down to Deep Adit with cages, artefacts etc.
TECHNICALITIES Trip1 Fixed ladders 60ft, vertical freehanging 60 foot SRT pitch.
Trip 2. Very wet walk in, winze with kibble etc..
Trip 3. Short self led, upper adit, fairly dry.
Access by kind permission of Mr Bernard Moore
Bwlch Glas Details
---
Henfwlch.
Not available in 2013. Access through CAL
Long straight adit leading to stopes and side passages. Ore barrow stope has an ore barrow in really good condition. Waterfall Stope is a handline descent of large stope with 2 waterfalls and some interesting 'mooches'. Belay belt and cowstail required. Further passages on main adit has clog prints and candle stubs. Possible round trip (optional) requiring SRT and waterproofs. Delegates can do as much or as little as they wish.
---
Alltycrib (Talybont).
Not available 2013. Access through CAL.
The Forestry barrier at Talybont will be open for the duration of the event ( permission obtained) and so provide ample on site off road parking in a particularly pleasant shaded area surrounded by relics of past mining activity. This will enable easy access for anyone with some spare time to kill by an interesting self lead surface walk or easy underground walk in. Downloadable guides will be available.
Trip 1: Deep Adit
TECHNICALITIES Easy SRT down a 40 foot slope of about 55 degrees, a free standing rebelay, followed by a 20 foot slope. 70 foot descent by concrete steps and fixed ladders. No life line needed. Thigh deep wading or optional deeper water heading outbye.
Remains of horse whim and pumping bob plus flat rod supports. Remains of early wooden kibble and later iron one.
Trip 2: Western Engine Shaft Stopes - Cancelled.
Trip 3 Wilkinsons Level
Easy walk in, non technical, shallow water., short crawl as above. SELF LEAD.
The level starts as a cross cut and appears to be a modified earlier coffin level. A left branch follows Wilkinsons Lode to Western Engine shaft and the SRT winze. The shaft is completely run for all its depth. A right branch cuts Felix's Shaft which was the site of an oil engine and winch used in the last 1910 working, foundations to be seen. The level eventually reaches Steel Ore Lode stopes. An easy explore.
Trip 4 Myddletons Level
Easy walk in, non technical, shallow water. SELF LEAD.
Interesting example of Elizabethan coffin level. I have only identified one shot hole. Was the site of an underground steam engine in the 1870s, bits of the flue and boiler plate can still be seen at the run in at the end where it originally cut Western Engine Shaft.
Talybont or Alltycrib Trips Detail
---
Cwmystwth
Level Fawr Trips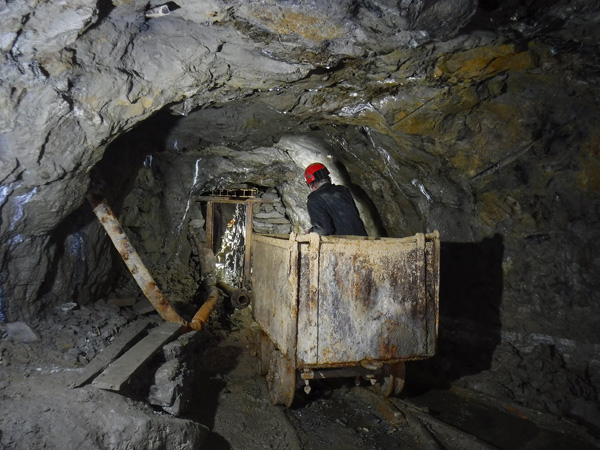 Easy access to the back workings by The Steel Road rather than the small plastic tube.
Trip 1 TECHNICALITIES Hands and knees short entry through roomy tube, water up to thigh deep
General mooch in the level with lots to see plus an all day underground 'event' in Lefel Fawr with a series of underground talks with groups moving between leaders.
#1 Underground Works, the challenges and difficulties by Roy Fellows.
#2 Geology and Mine Exploration, Prof David James.
#3 A self guided tour on a 'one –way' system.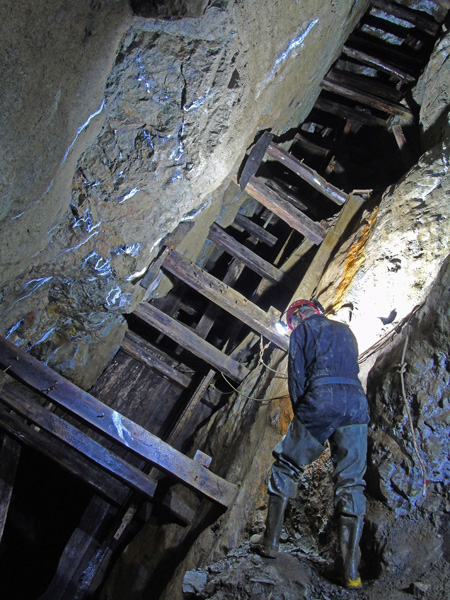 Short ladder of a few feet to look at skipway.
Trip 2 As above, plus
TECHNICALITIES moderate SRT down skipway to lower workings, about 80 feet.
Aldersons and Herberts Levels
TECHNICALITIES: None, except possibly wet feet
Easy walk ins, fairly dry. Will possibly be combined with a surface walk.
Taylors Level
TECHNICALITIES: Water up to waist deep
Crossroads Adit (SRT Through trip)
A nice, dry little trip.
Rosa Level/Pugh's Mine (Advanced SRT)

This is a day long, multi-pitch SRT trip for a limited number of enthusiasts. Rosa Level is high on the hill, above the Cwmyswyth Mill and the trip involves multiple pitches to reach approximately back to road level in Pugh's Mine (Western end of Cwmystwyth) and re-ascending via the same route. Those involved with this trip will need to be very experienced with SRT and be prepared to carry a lot of rope up to Rosa Level – need to be fit!
Kings/Queens Adits (SRT)
This is a comparatively short SRT trip but into a part of the Cwmystwyth system not often visited and with interesting artefacts. Access is into the adit below Kings Adit, high up on the Eastern end of the Cwmystwyth system. There is a freehanging pitch of about 10m down to intermediate workings with artefacts and then an unconventional pitch descending to Queens adit. There is no surface access to Queens adit so exit is by re-ascending the two pitches.
[More maybe]
---
Mines of the Rheidol Valley.
(Undergound)
Leader Ioan Lord.
Ioan has done a lot of research on these mines and is the author of a recent book, with more to follow!
Pantmawr Mine (Stopes, minor artefacts and nice mineral formations)
TECHNICALITIES: Chest deep wading
Rhiwrugos/Erwtomau (Stopes and minor artefacts)
TECHNICALITIES: Wellingtons only
Get his book!
---
Ystrad Einion
Leader: Dave Seabourne
Site of the famous underground water wheel.
TECHNICALITIES Easy walk in, ankle deep water, fixed temporary aluminium ladder with lifeline to upper level, life lined traverse over flooded understope.
Ystrad Einion Trip Details
---
Lefel Fawr at Pontrhydygroes
TECHNICALITIES Shallow water, some crawling and stooping, ladder to upper level.
Pontrydygroes Full Details
---
Camdwrbach
Mine of the black cave pearls
TECHNICALITIES: Handline down open cut, wriggle through hole into neck deep water.
This is preferably a wetsuit trip and is subject to access continuing to be physically possible.
---
New Level
Extensive trial.
TECHNICALITIES: Open entrance but very wet, chin deep water in entrance.
This is preferably a wetsuit trip
---
Brynyrafr
CANCELLED DUE TO DANGEROUS STATE OF THE ACCESS. ABOUT TO COME DOWN.
---
Cefngwyn
TECHNICALITIES: None
Combined surface and easy underground. In dry weather the adit is bone dry! Although really a trial its and interesting easy walk in. Surface remains include flooded shaft with remains of bob.
---
Surface Trips
Friday 5th July 2019 10.30 Abbey Consols
Meet at SN 745 657 (Car park)
Leader David Sables
---
Saturday 6th July 2019 10.30 Esgairmwyne
Meet at Ffair Rhos Exact details to be arranged.
Leader David Sable
---
Saturday 6th July 2019 10.30 Cwmystwyth Copa Hill.
Leader Simon Timberlake, Early Mines Research Group.
Meet at Nant yr Onnen SN 809 748 There is limited parking there and opportunist paring along the road.
---
Graigoch - Brook Shaft Mine - Wemyss - Frongoch
Sunday 7th July 10.30 All day trip. Meet at SN 719743
This is an all day trip led by a geologist and industrial archaeologist, so a lot to see and learn about
Leaders Prof David James and Robert Ireland
---
Alltycrib (Talybont)
Self lead with downloadable pdf guide from central off road parking area. Can be fitted in with the organised trips.
---
Llywernog Lead and Silver Mine
Tourist Mine. Special NAMHO tips will hopefully be arranged. Interesting surface, underground, and museum
---
EVENT OVER.